Auto Body Collision Repair | Painting
Since 1989, we've repaired and painted everything from horse carriages to dragsters, convertibles and hardtops, sedans and vans, trucks, sports cars, and foreign makes.

We use BASF/R-M Diamont Automotive Refinish Products for a high-quality, long-lasting finish. RJ CARS is a member of Hagerty's Expert Repair Network as an accepted repair shop for classic vehicles covered by their insurance policies.
We know being involved in an accident is stressful enough. Let us take the worry and uncertainty out of getting you back on the road. We handle all your insurance claims and deal directly with your insurance company to get you behind the driver's seat again.
Repair Services
Auto body repair and restoration

Custom painting

Doll-up services
Wheel repair
Collision Services*
Mitchell estimating software to process insurance claims

Free insurance estimates

Structural repairs
Frame straightening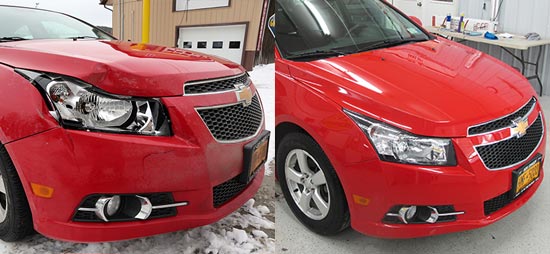 "I want to give a big thank you to Russell Jacobs at RJ CARS INC for doing such an amazing job fixing the damage done to my car from a deer hit...I highly recommend Russ and RJ CARS INC, my car looks better then the day I bought it, not to mention the amazingly quick turn around time..!!! If you are in need for any work done please give him a call, you won't be disappointed!!!"

~William Losey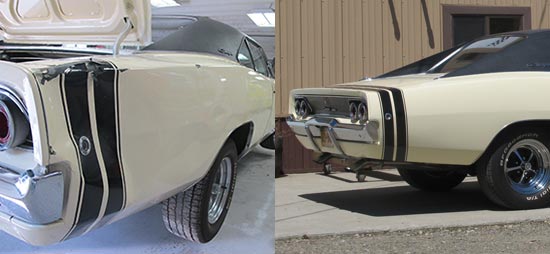 "I took my 1968 Charger out for a final ride for the season, it just happened to be opening day of Deer Season. Yep, a big doe jumped out and smashed into the side of my Charger. Devastated I brought the Charger to RJ CARS where they assured me they could restore it. I was able to see the progress of work being done on my Charger from start to finish. When I picked up the Charger it looked amazing. I can't thank them enough for the professional work they did."

~Matt Maser
This repair was handled through the Hagerty Expert Repair Network
1987 Buick Regal T-Type
*Right to use the repair shop of your choice
New York Consolidated Laws, Insurance Law - ISC § 2610. Collision or comprehensive coverage on motor vehicles; claims; repairs
(a) Whenever a motor vehicle collision or comprehensive loss shall have been suffered by an insured, no insurer providing collision or comprehensive coverage therefor shall require that repairs be made to such vehicle in a particular place or shop or by a particular concern.
(b) In processing any such claim (other than a claim solely involving window glass), the insurer shall not, unless expressly requested by the insured, recommend or suggest repairs be made to such vehicle in a particular place or shop or by a particular concern.
(c) [Eff. Jan. 17, 2017.] The insurer shall provide a copy of its repair estimate to the insured that includes the following disclosure, plainly printed in no less than 12 point type: "PURSUANT TO SECTION 2610 OF THE INSURANCE LAW, AN INSURANCE COMPANY CANNOT REQUIRE THAT REPAIRS BE MADE TO A MOTOR VEHICLE IN A PARTICULAR PLACE OR REPAIR SHOP. YOU HAVE THE RIGHT TO HAVE YOUR VEHICLE REPAIRED IN THE SHOP OF YOUR CHOICE".